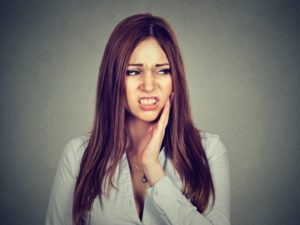 Imagine this: you're playing with your kids when one of them turns around a little too quickly and you get elbowed in the face. You rush to the nearest mirror to check on your pained teeth to find that one of them is crooked now! Or maybe your spouse plays a contact sport, and one day they come home with a cracked tooth. Most people can easily identify when they're having a medical emergency, but do you know what counts as a dental emergency? Recent studies are finding an increase of "non-urgent" issues being reported as dental emergencies. On the other hand, seeing a dentist within 30 minutes of an urgent dental emergency can be the deciding factor on if a tooth is saved or lost. So, what counts as a dental emergency? Read on to learn what does and doesn't constitute a trip to the emergency dentist, and how to deal with a few common scary situations.
Signs of a Dental Emergency
You might be experiencing a dental emergency if you have any of the following symptoms:
Knocked-out or loose teeth
Visible damage like cracks or chips
Intense swelling or bleeding in your mouth
A severe toothache
Call your dentist immediately if you think you have a dental emergency. Time is of the essence!
What Isn't a Dental Emergency
Some dental issues are alarming and need to be looked at by a dentist soon, but don't qualify as dental emergencies. You can care for these issues at home until you can see your dentist:  
A cracked or chipped tooth that doesn't hurt
A lost crown or filling
Oral sensitivity to hot and cold
A dull toothache that isn't severe or accompanied by signs of infection
These issues don't warrant a trip to the emergency room or urgent care office, but they do need to be checked out by a dentist soon. If left alone, they could become worse.
What to Do in a Dental Emergency
Quick action could be the difference between saving and losing a tooth. Here are some tips for what to do in common dental emergencies until you can get to the dentist's office.
Knocked out tooth: Carefully pick up your missing tooth by the top, being careful to avoid touching the roots. Gently rinse it off and store it in a glass of cold milk.
Painful cracked or chipped tooth: Clean out your mouth with warm water and reduce swelling by applying ice to the outside of your cheek. Take acetaminophen for the pain.
Infection from an abscessed tooth: Clean your mouth and reduce the pain by rinsing with saltwater several times. Take an anti-inflammatory drug like Advil or Motrin.
Studies indicate that an increasing number of dental emergencies could have been prevented entirely had they been caught earlier. With good dental health habits and regular checkups from your dentist every six months, you can keep your teeth healthy and minimize your risk of experiencing these situations altogether.
About the Author
Dr. Nancy Cabansag is a general, cosmetic, and emergency dentist based in Arlington, TX at Encore Dentistry. She is a graduate of the Loma Linda University School of Dentistry and has been providing superior dental care for over 17 years. She and her team make every effort to welcome in patients for emergency care on the same day as their initial call. If you have any questions about dental emergencies, she can be contacted at her website or at (817) 561-2161.