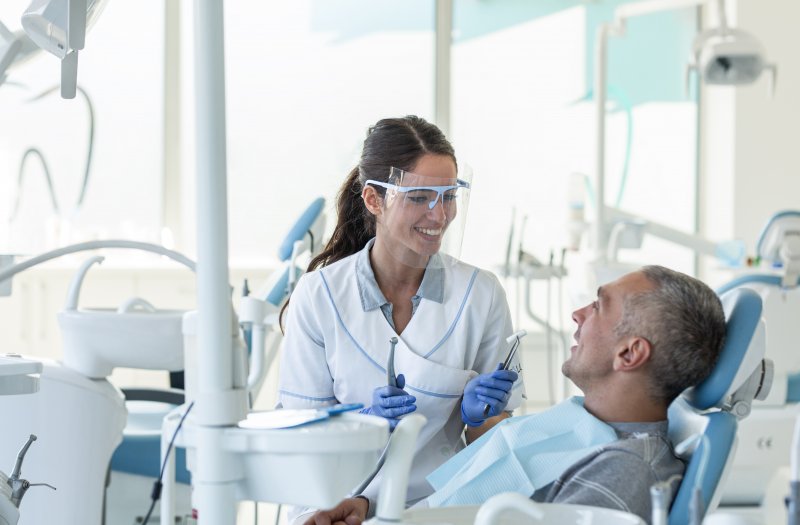 COVID-19 hit, and the world as we previously knew it changed forever. Almost overnight, stay-at-home orders were in place, hand sanitizing stations were around every corner, and face coverings were a part of our daily routine. Fortunately, these safety measures have made the transition out of quarantine and into our "new normal" possible while experts continue to research the intricacies of this virus. Therefore, it is time to schedule your visit that was postponed during the first wave of the pandemic. If you have found yourself wondering what to expect at your appointment during COVID-19, then keep reading!
Social Distancing Guidelines
To prevent the transmission of this potentially fatal virus, experts at the Centers for Disease Control and Prevention have continued to reinforce the importance of social distancing. In fact, they believe that the 6-foot distance guideline has prevented up to 185,000 deaths! Therefore, your dental team is re-designing their daily operations to make social distancing a practical reality by:
Opting for contactless greetings.
Introducing virtual waiting rooms that allow you to check-in from your phone in the comfort of your car.
Placing one-way traffic signs around the office to effectively funnel foot traffic.
Installing clear barriers to block the movement of airborne particles.
New Appointment Protocol
Pre-COVID-19, back-to-back appointments were a routine part of your dentist's day. However, to allow for ample cleaning time and prevent patients from having to leave their house repeatedly, dental teams are introducing a new appointment protocol. By spacing out procedures and offering extended patient visits, your dentist and their team can provide more dentistry in a single visit and limit your potential exposure!
Significant Sanitation Measures
Although your dentist has followed rigorous sanitation guidelines set forth by the CDC for years, they are implementing additional measures in light of the current pandemic. To ensure their practice remains a safe, sterile environment, dental teams are:
Asking patients to use an anti-microbial rinse before their appointment.
Placing hospital-grade hand sanitizing stations strategically throughout the office.
Cleaning after every appointment.
Using CDC-approved instrument sterilization.
Removing communal activities (i.e., toy chests, magazines, etc.).
Additional Personal Protective Equipment
At your last appointment, a face mask and fresh set of gloves helped your dentist practice proper infection control and prevent cross-contamination. While those measures continue to play a crucial role in keeping both the staff and their patients safe, your dentist is opting for additional personal protective equipment during COVID-19. Therefore, don't be surprised to see your dental team in double masks, face shields, and disposable coats during your upcoming visit.
The COVID-19 pandemic has changed nearly every aspect of our lives, and your dental appointment is no exception. To ensure you get the oral care you need in a safe environment, your dentist is implementing the above measures into their daily operations. That way, you can come in for your routine visit without compromising your safety!
About the Author
Since graduating from the Loma Linda University School of Dentistry with her dental degree, Dr. Nancy Cabansag has continued to perfect her skills through advanced education courses. She is currently a member of multiple reputable organizations, including the American Dental Association, and uses her nearly two decades of experience to help her patients achieve beautiful, healthy smiles. If you would like additional information on how Dr. Cabansag is using her expertise to keep her patients safe during COVID-19, please visit her website or give her a call at 817-561-2161.