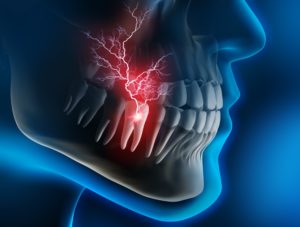 Is a throbbing toothache keeping you awake at night? Maybe you have a sharp, sudden pain when chewing your favorite food? You might think an occasional toothache is normal, but it's never a good sign. In fact, it often indicates a serious problem in your mouth that can harm your overall wellbeing. It's best to visit an emergency dentist right away, even if your pain dissipates. Your dentist will pinpoint the cause of your discomfort to save your tooth and protect your health.
What Causes a Toothache?
A toothache can be caused by various factors, like decay or a fracture; however, it is often the result of an infection deep within the tooth. If a cavity isn't treated, the bacteria will eventually extend beyond the enamel and dentin to infect its inner layer called the pulp. This causes serious pain and inflammation. If the infection isn't treated promptly, not only can you lose your tooth, but it can also create potentially deadly complications.
The infection can enter your bloodstream. As it circulates throughout your body, it can cause you to lose your cognitive abilities. In some cases, it can even lead to death. Believe it or not, tooth infection is the leading cause of hospitalizations in the U.S. You don't need to place your life at risk. Your emergency dentist can put an end to the infection. You'll preserve your tooth and protect your health using a customized treatment plan.
How is an Infected Tooth Treated?
If caught early, your dentist can treat your tooth with a root canal. Although they have a bad reputation for being painful, the latest advancements in dentistry help to ensure you're comfortable, so you can sit back and relax during the procedure.
Your dentist will remove any areas of decay using special dental tools. The roots of the teeth are cleaned out and sterilized before being sealed with a special material called gutta-percha. Your dentist will likely place a custom-made crown over the tooth to give it an added layer of protection while also restoring its function and appearance.
Do I Need a Root Canal?
Not all toothaches require a root canal, but there are some signs you might need one to resolve your pain, such as:
Constant throbbing pain
Lingering sensitivity to heat and cold
Pain when placing pressure on the tooth
Chronic bad breath
Bad taste in the mouth
Abscess near the root of a tooth
Darkening of the tooth
Don't Wait to See Your Dentist
If you have a toothache, don't wait to visit your dentist. They'll provide the quick action you need to address your discomfort. Since your mouth is the gateway to your general health, you'll invest in optimal wellbeing through the power of a healthy smile.
About Dr. Nancy Cabansag
For over 20 years, Dr. Nancy Cabansag has committed her life to dental care. She embraces the latest technological advancements to provide modern services, even for complex issues. If you need a root canal, her office provides cutting-edge treatments to preserve your smile. Contact our office today to schedule your consultation.