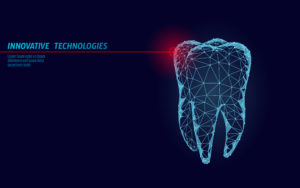 Since the discovery of the biocompatibility of titanium over 50 years ago and its integration into the dental implant process, there have been major breakthroughs. The quantum jumps in dental implant technology have resulted in the procedure having a 95% success rate. As you continue reading, learn about 3 key advancements that help to reconstruct smiles in a phenomenal manner!
Digital Implant Planning
Before dental implant surgery gets underway, dentists take a calculated approach to planning each step of the procedure. The more thorough they are in their efforts, the better the outcome will be. They now have access to an amazing planning software that permits the merging of CBCT scan technology (called DICOM) and digital impressions (referred to as STL). The combination of these two key components allows a dentist to formulate a simple digital plan for a precisely designed implant and final restoration.
Antibacterial Coating
One of the prerequisites for receiving a dental implant is to have excellent oral health. That means oral bacteria growth has to be under control. Because bacteria are always present in the mouth and there is the constant threat of them exponentially increasing in number, there's a need for protective measures down the road.
With the aid of new, breakthrough technology, dentists now have access to antibacterial dental implants. During fabrication, the implant is coated with a gel made from silica and antibacterial agents. In addition to preventing bacteria growth, the materials used encourage osseointegration (bone fusion).
Computer-Guided Implant Surgery
With computer-guided implantation, dentists can more accurately place an implant and predetermine if there's a need for any soft tissue augmentation. The technology allows for a 4-dimensional virtual plan to be transferred to the real-world via guided surgery.
Here are some specific perks:
There is increased predictability.
Implants more securely seat and stabilize.
Surgery can be performed utilizing an atraumatic flapless (minimally invasive) protocol.
How to Get More Details
There are several advantages to scheduling a dental visit sooner than later. For starters, the more expeditious you are about seeking care, the less jawbone loss you're likely to endure. Additionally, it will provide an opportunity to be assessed to make sure you're a good candidate for dental implants.
Once you're cleared to move forward, the dentist can provide the pertinent details about every step of the reconstruction process. With the multiple technological advancements now in place, you can look forward to a much more efficient and productive tooth replacement process. Therefore, you can soon smile with confidence!
About the Author
Dr. Nancy Cabansag is a graduate of the Loma Linda University School of Dentistry. An avid learner, she has fervently pursued more knowledge by taking several hours of continuing education throughout her nearly 20-year career. Dr. Cabansag uses state-of-the-art technology to aid in designing and placing dental implants so that her patients can lead successful and productive lives. She practices at Encore Dentistry, and she can be reached for more information or to schedule a visit through her website.