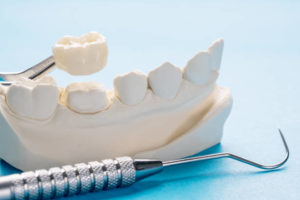 If you've ever needed a crown in the past, the process was a bit of a hassle. You had to wear a temporary restoration for a couple of weeks until your permanent restoration was sent back to your dentist. You don't have to juggle multiple appointments or deal with a temporary crown when choosing CEREC. You can get the high-quality restoration you need in one day, and won't have to compromise on quality or aesthetics. Here's how long you can expect it to take. 
Traditional Crowns VS CEREC Crowns
Dental crowns are versatile because they offer preventive, aesthetic, and restorative benefits. A crown is a custom-made cap that's bonded over the entire surface of a tooth above the gum line. It can protect a tooth from potential issues, repair one that's been damaged, or improve its appearance.
The traditional method of creating a crown takes at least 2 appointments. After your tooth is prepared, your dentist will need an impression of it, which can mean holding a foul-tasting material in your mouth for a few minutes. A temporary crown is applied to the tooth while the impression is sent off to the dental lab. Once your restoration is sent back to your dentist, you'll return to have it bonded in place.
CEREC simplifies the entire process. Once your tooth is prepared, your dentist will take a quick digital impression, which provides the utmost accuracy when creating your crown. The scan is used along with CAD/CAM technology to set the specifics for your restoration. The information is sent to an in-office milling machine, where your crown will be cut from a single block of all-ceramic material. In about one hour, your crown will be ready to be bonded to your tooth, and you can get back to enjoying your day.
Benefits of CEREC Crowns
You can get a high-quality crown over your lunch break, but that's not the only benefit of CEREC. The revolutionary technology provides many advantages, including:
Unmatched accuracy to ensure the correct fit the first time.
Durable, natural-looking materials.
No need for a temporary crown.
The entire process is performed in-house to streamline the process.
An average lifespan of 10+ years.
Easy maintenance and care.
Biocompatible materials and no risk of metal allergies.
Can be partially covered by dental insurance.
If you need a crown, you can skip the hassle with CEREC technology. Your dentist will combine the latest technological advancements and techniques to provide the best care possible. They'll craft the dental crown you need while saving you time in the dentist's chair. In one afternoon, you'll have peace of mind knowing your tooth is protected and looks its best using a solution that can last for a decade or longer.
About Dr. Nancy Cabansag
Dr. Cabansag earned her dental degree at the Loma Linda University School of Dentistry and has regularly continued her education in advanced services, like dental implants and CEREC crowns. She is a member of many professional organizations, including the American Dental Association. Request an appointment through our website or call (817) 533-8408 for an appointment.